Original Prusa MK4 is built around our new 32-bit connected architecture and the next-generation extruder (Nextruder). It lays down a perfect first layer every time without Live Adjust Z and it has support for high-speed printing with Input Shaper and Pressure Advance. We also improved the safety features even further. Plus, there are a ton of useful things, such as quick-swap nozzles, built-in support for remote printing and webcams, and many more. And it's still beautifully quiet.
The successor to the award-winning 3D printing workhorse Original Prusa MK3
Effortlessly fast and silent 3D printing
Fully automatic first layer calibration thanks to the Load Cell sensor
Print right out of the box – no print sheets profiles, no tinkering, no Live Adjust Z!
Nextruder – our new extruder with a custom breakout board and smart features
Safety features like filament sensor and power panic that won't let you down
Easy maintenance, quick-swap nozzles, and removable print sheets
Support for a wide range of materials, incl. PLA, PETG, Flex, Nylon, ASA, PVA, PC, PP, composites and more
Color LCD screen with simple-to-navigate UI and quick access to all important functions
Ethernet and Wi-fi connection
Made in the EU, hassle-free warranty, 24/7 live chat support
Open-source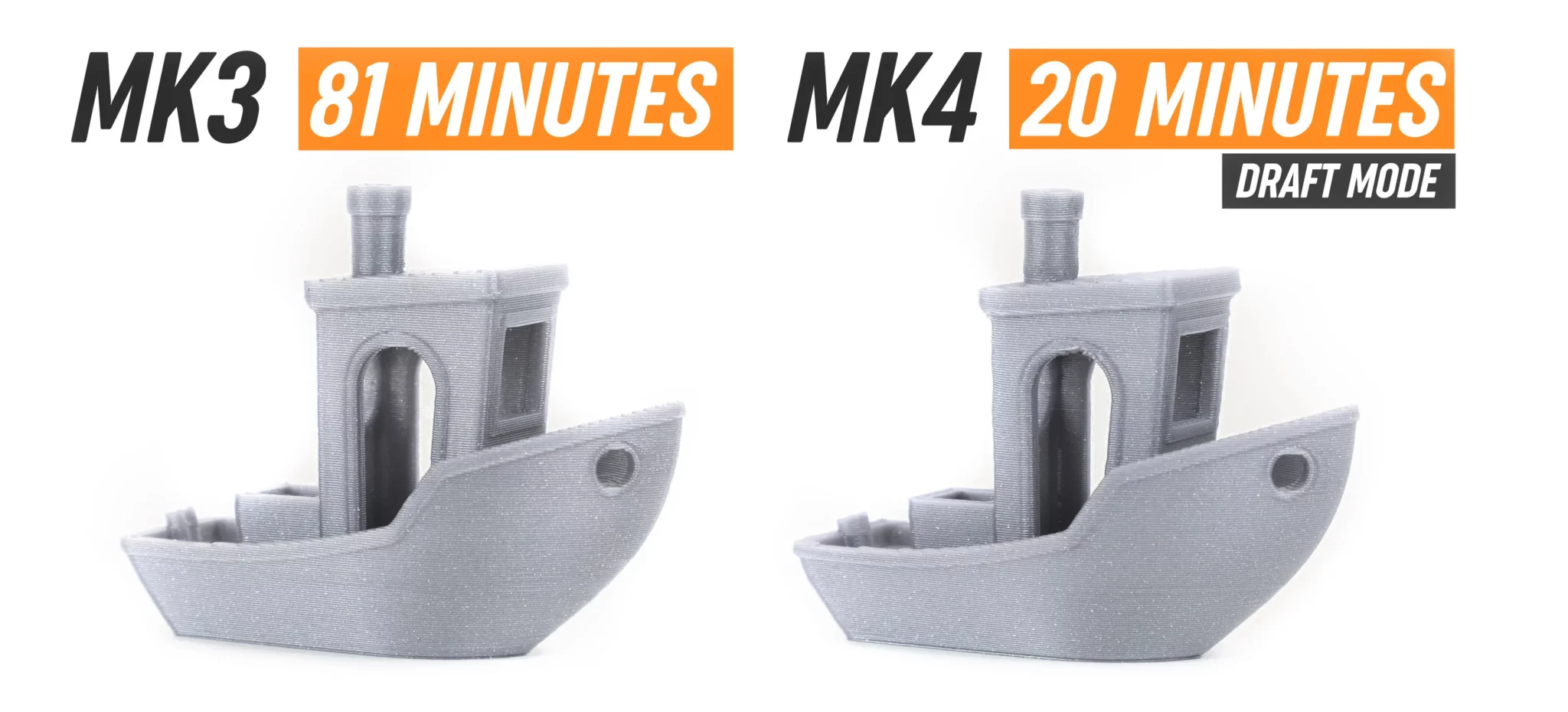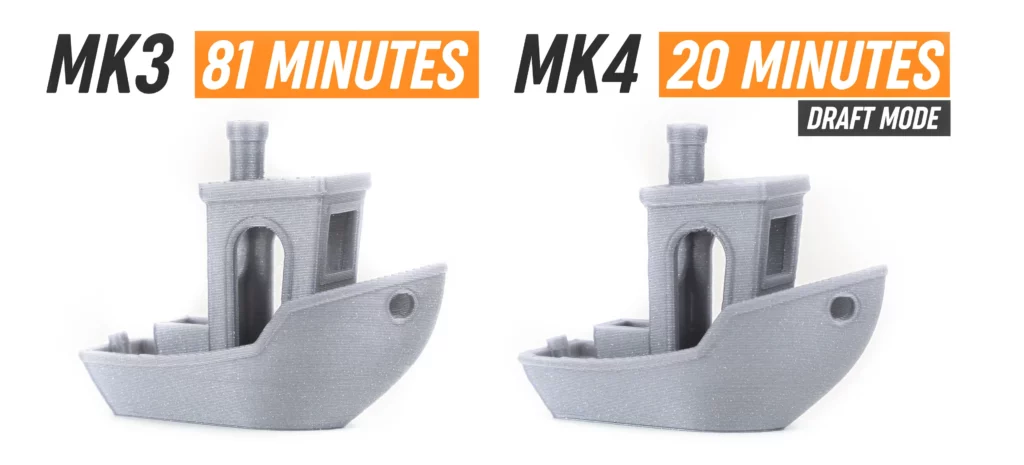 High-speed printing with ease
Thanks to our own implementation of Input Shaper and Pressure Advance technologies in the MK4's firmware, the printer can eliminate resonance in prints and predict the flow of the filament. The result is a decrease in print time by up to 70% compared to MK3. What's more, the printer is very quiet even at these speeds – check out the sub-20-minute Benchy video. Support for high-speed printing will be added later via a firmware update.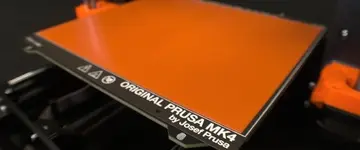 Perfect First Layer Out of the Box
Thanks to the precise Loadcell sensor, MK4 can lay down a perfectly smooth and consistent first layer automatically without any user input. At the beginning of a print, the printer taps the sheet with the nozzle in a grid-like pattern to measure the distance and then calculates the correct offsets. The result is a perfect first layer on every surface, without manual adjustments.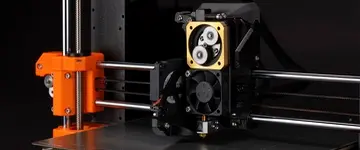 The Nextruder with Breakout Board
Extruder is the heart of every 3D printer. And this is a special one. On most 3D printers today, replacing extruder components is a rather complicated process. With the new connector break-out board inside the Nextruder, all of the parts, such as fans, heaters, thermistors, etc., are connected directly there. If you need to swap anything, it takes just a minute.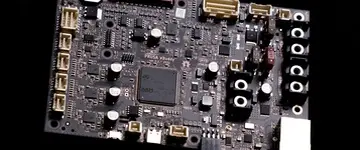 32-bit xBuddy Mainboard
Our new xBuddy board is a 32-bit STM32-powered mainboard with many great features. It has several unique hardware-based safety protection systems, communicates with four thermistors, has all important ports (Ethernet, Wi-Fi, works with USB-A flash drives) and more. The entire board was designed, manufactured, and tested in-house.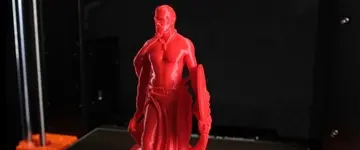 Exceptional Print quality
The MK4 comes with redesigned, more robust plastic parts and new precise 0.9° stepper motors (0.9° / step; low inductance) on the X and Y axes that help eliminate Vertical Fine Artifacts on prints. Plus, there are thicker 10mm rods on the Z-axis. The result is, that prints look better than ever and even printing with "problematic" filaments like Flex is a breeze.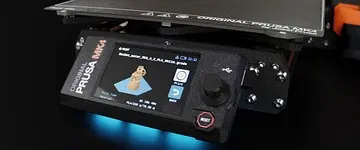 Color LCD screen and simple UI
MK4's display supports G-code thumbnails, QR codes and other elements that make using the printer so much easier. We also redesigned many of the existing menus and added a customizable footer panel. Directly under the LCD, there is an RGB status bar to signalize the current status of the printer. Next to the LCD, there's a USB-A port for standard USB flash drives.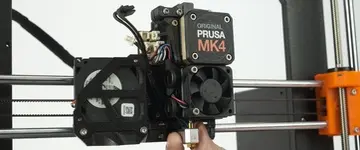 Quick-Swap Nozzles
Thanks to two quick-release thumbscrews on the side of the body of Nextruder, which holds the nozzle in place, you can swap nozzles easier than ever. The MK4 is using special nozzles with an all-metal filament guide (no PTFE tubes anywhere), which improves the overall reliability of the printer. Simple Nextruder-to-V6 adapter is available.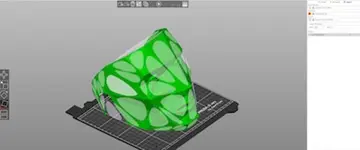 Slice with PrusaSlicer
Our internally developed multiplatform slicer comes with in-house made and fully tested profiles for all of our 3D printers and a wide range of filaments. With built-in tools, such as organic supports, cutting, automated object distribution, ironing and many others, you will turn your 3D models into print files in no time!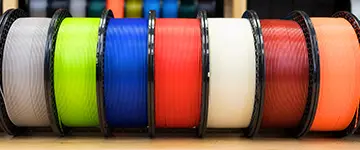 Support for a wide range of Materials
The MK4 is fully compatible with a wide range of various types of materials. No matter whether you want to print something for fun from PLA and flexible materials, or you need to produce durable prototypes from PETG, ASA, Polycarbonate and Polypropylene – the MK4 can handle them without any problem.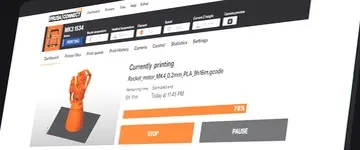 Prusa Connect and Connectivity Options
MK4 is, along our other 3D printers, fully supported by Prusa Connect, which allows you to control the printer via internet. You can drag-and-drop G-Codes into the browser window to upload print files first into the cloud (each user gets 2 GB for free) and then transfer it into the printer's USB storage and start the print remotely. All communication is encrypted.